About Us
OnlineCityTickets.com is a leading provider of resale tickets in the secondary market specializing in concerts, theater, family shows, traveling Broadway, and sporting events. We offer tickets to events around the world and provide our customers with an outstanding customer service team, cutting edge technology, and low prices. OnlineCityTickets.com is a privately owned and operated company dealing almost exclusively in the online retail of resale tickets. Prices on our sites may be above or below face value and can change quickly with consumer demand. We are not affiliated with any primary website, venue, box office, or supplier.
OnlineCityTickets.com offers all of our customers a 100% Buyer Guarantee, which states that all tickets purchased will arrive prior to the event, be better than or equal to the tickets purchased, and be completely authentic and valid for entry. The majority of inventory sold on our sites can be instantly downloaded or emailed within minutes of purchase. We also offer various last minute services and are often able to give our customers access to events even after they've started.
We strive to make our customer experience the most outstanding in the industry. Please call (800) 854-2196 at any time with any questions or concerns. You may also email support@onlinecitytickets.com for any additional information.
Thanks,
OnlineCityTickets.com
Ticket Information
Inventory
We are a resale marketplace, not a box office or venue. Ticket prices may exceed face value. This site is not owned by Bon Secours Wellness Arena .
Guarantee
100% Buyer Guarantee. Tickets are authentic and will arrive before event.
Address
650 North Academy St
Greenville, SC 29601, United States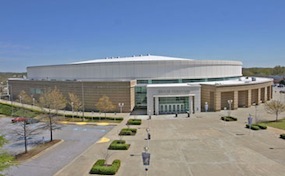 Bon Secours Wellness Arena
The Bon Secours Wellness Arena is a multipurpose arena built in 1998 at a total construction cost of $63 million in Greenville, South Carolina. The Bon Secours Wellness Arena is mainly used for concerts. The seating capacity offered by the Bon Secours Wellness Arena box office is 15,591 for most concerts. The Bon Secours Arena has hosted a couple different NCAA Basketball Tournament games. However, due to current regulations it is not eligible to host any of the games until the Confederate flag is taken off display at the South Carolina State House. Common Bon Secours Wellness Arena tickets include the PBR Series, WWE, Monster truck rallies, motocross racing, ice skating, and dog shows.

First founded by The Lions Club, the original stadium was built in 1958. It took twenty years for The Lions Club to complete, even with the club's active support. A few hindering aspects that delayed completion were World War Two, lawsuits, and even internal disagreements over the design. Before its grand opening, the venue hosted a basketball game between Furman University and West Virginia. In the 1990's the BI-LO center, as it was originally called, was completely overhauled and is now known as the Bon Secours Wellness Center.

ArenaGreenville.com is not affiliated with any primary vendor or box office. We are a privately held company that specializes in providing a large supply of online inventory at the lowest prices. To purchase tickets to any Bon Secours Arena events simply click on the event of interest or call our operators at anytime.